January 2020 turned out to be quite successful for the domestic market of new commercial vehicles – 850 trucks and 169 buses and minibuses were sold, the Ukravtoprom Association reports. As a result, the growth in trucks, compared to the first month of 2019, amounted to 3.9%, and for buses – 14.2%.
As for the brands, Renault is the leader among delivery cars – 149 cars have been sold. The French brand took first place despite a slight drop in sales (-13%), compared with the first month of last year.
But Fiat in January was able to increase its figure by 32%, having sold 140 commercial vehicles and will come close to the dealer. Peugeot has the third place, which also has something to boast of – 90 units of this brand were sold, which is 172% more than a year ago. Almost 45% improved its sales and Ford – 84 cars. Among the record holders for growth should be called MAN – 51 trucks (+ 466%) and DAF – 9 cars (+ 350%). The Chinese brand Howo also excelled – 8 units. (+ 166%).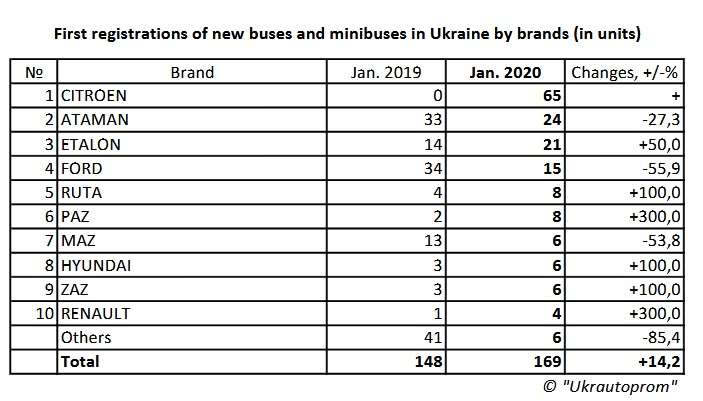 As for buses and minibuses, here is the first place according to the results of sales for January, at Cherkassk ATAMAN – 24 units. True, this is 27% less than a year ago when they sold 33 units. "Etalon" took a great start in 2020, which increased its sales in the first month by 50% – 21 buses. Ford is in third place with 15 cars (-55.9%), and in fourth "Ruta" – 8 units. (+ 100%) and closes the top five Russian PAZ – also 8 cars (+ 300%).