This location was not chosen by chance, and we talk about this in detail in our material "Budda: a new approach to the conversion of cars". Therefore, the presentation itself turned out to be quite eventful: reporters were able to observe the work of the Avtologistika complex from the inside, see new items in several versions, as well as get acquainted with several already converted models.
We will begin our acquaintance with Renault Master, as the flagship of sales of Renault light commercial vehicles. It is this model, produced since 1980, that holds the lead by the results of sales in 2019 in the world. As for the Ukrainian market, here the Master managed to win first place last year in his E-Van segment, although competitors – Ford Transit, Citroen Jumper and GAZ Gazelle Next – literally "stepped on their heels"
The new Renault Master is offered in our version in a van, chassis with a single or double cab. The latest options are just addressed to those customers who will configure the machine to the needs of their business.
As for the all-metal wagon, it is offered in four length options and three height options. Depending on this, the length of the cargo compartment will vary from 2.58 to 4.38 meters, and the length of the Trafic itself from 5.04 to 6.84 m. The volume for cargo will double in this case – from 8 to 17 cubic meters. It is important to note that, depending on the version of the length and carrying capacity, the type of drive also changes. If L1, L2 and L3 with a carrying capacity of up to 1400 kg and a gross weight of up to 3500 kg have enough front-wheel drive, the longer L4, which can take on board about 2 tons, do not go rear-wheel drive. They have more and gross weight – 4500 kg. The same trend is in the cab chassis versions.
The new Master received a completely different design of the front end. It is now not so sloping, with a more vertical grille in which chrome elements appeared, and new optics with LED daytime running lights. The car looks courageous, and therefore perceived more "strong". He appeared and the new color "Gray asphalt".
The interior is also completely new – there is a new steering wheel and a completely different front panel. At first glance, it may seem that it has become less functional, versatility is enough here. Just niches are now covered with lids, and there is still a pull-out table (in front of the front passenger). That box, which we used to call a glove box, has a volume of 10.5 liters. You can order an advanced multimedia system. In general, the list of additional equipment is very wide: from additional comfort and transformation options to rigging loops and inner lining of the cargo compartment right from the factory.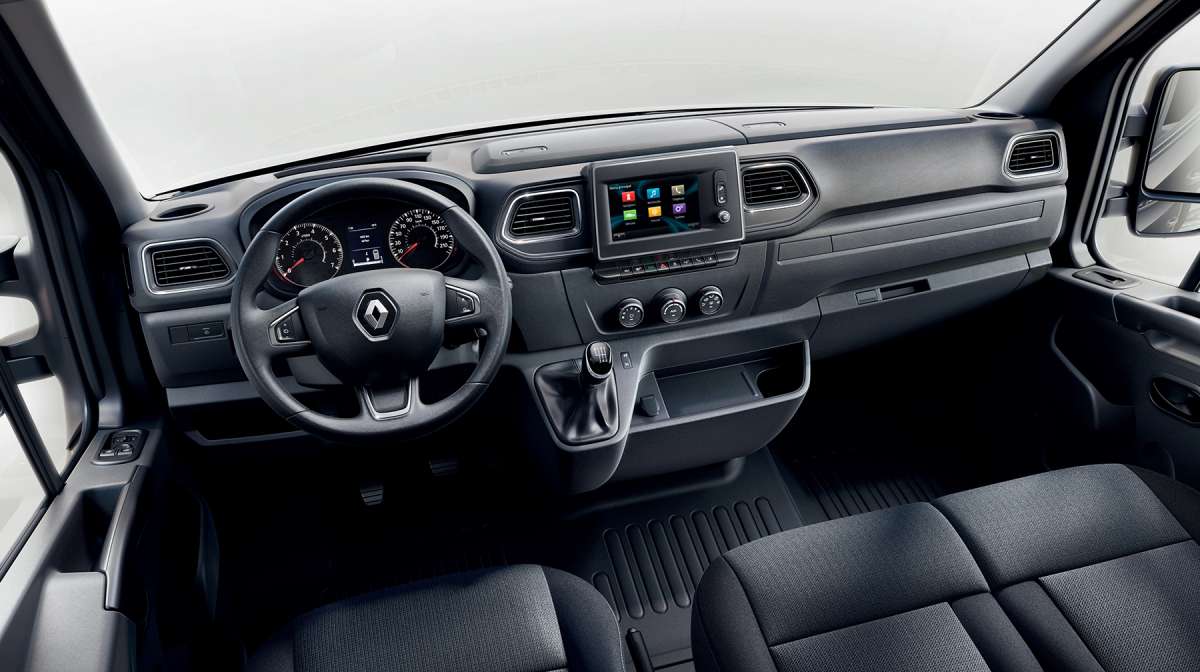 As for the power plants, this is a well-known 2.3 dCi turbodiesel engine in versions of 125 and 150 hp, as well as in the Twin Turbo version of 165 hp with Start & Stop system. Transmission – 6-speed "mechanics". All engines comply with Euro 5 toxicity standards. Already in the basic equipment of the system are ABS, ESP, HSA (help when pulling uphill), ASR (traction control), TSA (stabilization when riding with a trailer), driver airbag.
Starting price for Renault Master vans of 2020 of production – from 646 100 UAH., According to the Renault Bonus program – from 586 100 UAH. The chassis with a cab will cost a little cheaper – from 640 800 UAH. For cars 2019 onwards discounts apply.
The updated Renault Trafic is not so radical in its changes. He also got a freshened appearance, but the changes concerned only the design of the optics (it also added LED sections of a C-shape) and a radiator grill. The color palette also replenished with a new version of "Gray asphalt".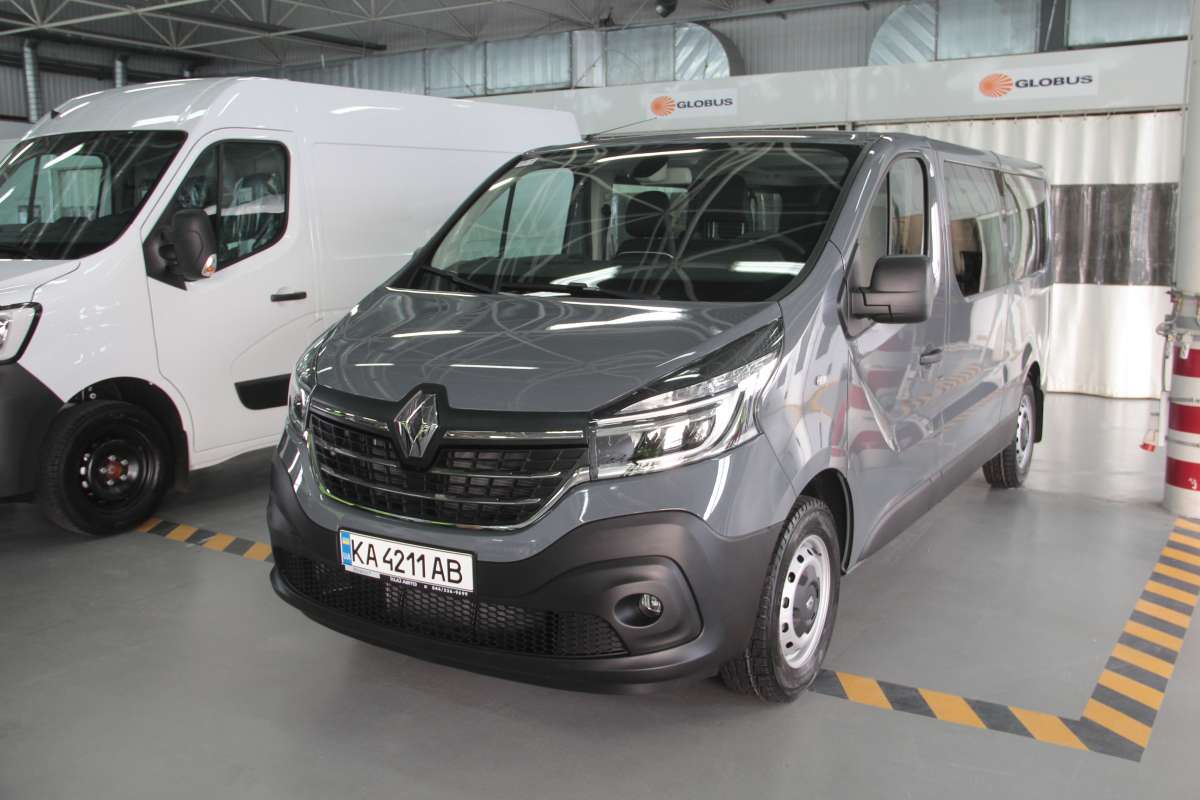 Inside, the changes are purely cosmetic – a different decor of the center console, new seat upholstery, gearshift lever and the actual interior color. By the way, this same salon can accommodate up to 9 people (including the driver) – Renault focuses on targeting those customers who need to transport small groups of people (for example, meeting delegations), but without any frills. In 2019, such a bet was played, and Trafic won a landslide victory in the class following the results of sales in the Ukrainian market.
Therefore, the version at the moment is only one: Combi L2H1. Starting price 666 700 UAH. for modification with a turbodiesel 1.6 dCi on 115 hp If you choose the same engine, but for 140 hp, then such a Trafic will cost 702,800 UAH. Gearbox – mechanical 6-speed.