[ad_1]

Volvo Dynamic Steering (VDS) is essentially an advanced power steering system designed to enhance the convenience and comfort of driving a heavy vehicle. VDS has been successfully used on Volvo Trucks since 2012, as well as on buses – after the corresponding adaptation in 2015.
Since then, the system has been constantly improved. The main components of the VDS include an electric motor, a hydraulic steering gear, a control unit and a number of sensors both inside and outside, around the vehicle.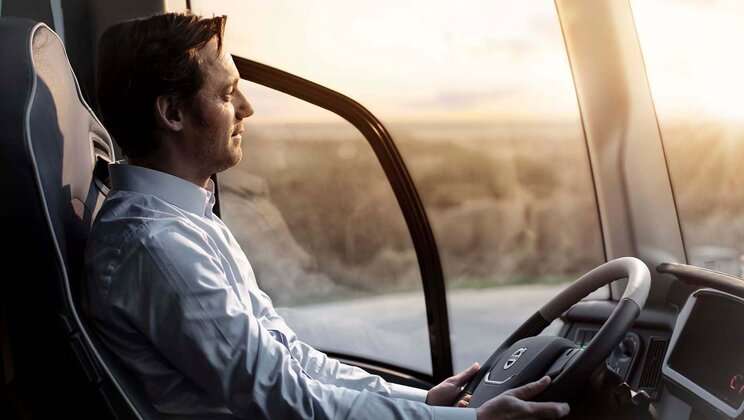 How VDS helps drivers in specific situations:
1. At low speeds
When the driver turns the steering wheel, the power steering is turned on, which facilitates the work of the driver. At the same time, the VDS electric motor is also triggered, offering additional help. As a result, the steering becomes 75% lighter at low speeds, which simplifies maneuvering in difficult situations, such as in a parking lot or in turns.
2. At high speeds
During the movement of the bus, many sensors both inside the electric motor and around the vehicle collect data on the speed of the vehicle, the angle of rotation and the applied torque. The control unit then calculates the optimum steering response and instructs the electric motor to adjust the steering force. In essence, the ease of steering depends on the speed of the vehicle: on small ones, the steering wheel is lighter, and with a set of speed it begins to fill with heaviness.
The electric motor is electronically controlled up to 2000 times per second. If any deviations are found due to roughness of the road or involuntary movements, the steering effort is immediately corrected. As a result, the driver makes less physical effort – his arms and shoulders are not so tired, which increases his productivity. In addition, VDS provides better directional stability of the vehicle, which undoubtedly increases its active safety.
3. Feedback
While the vehicle is moving, VDS seeks to automatically return the steering wheel to a straight-ahead position. Although a steering wheel return is standard for cars, it is not always acceptable for buses, as their steering is heavier and the geometry in the steering system does not always allow self-leveling. However, VDS works much like a car, regardless of steering configuration. This includes turning the steering wheel when turning, which greatly simplifies maneuvering the bus in tight spaces.


[ad_2]