[ad_1]

The longest special stage Dakar 2020 – with a length of 546 km fell on the seventh stage of 746 km, which took place on Sunday. Recall that on Saturday, the riders rested, after passing through six stages – the equator of the competition.
If we talk about the truck classification, the Chelny riders distinguished themselves here, taking all four first places. The first to come to KAMAZ was Andrey Karginov. The surprise was the return to the race of Eduard Nikolaev, who missed the sixth stage due to problems with the engine. At the seventh stage, he showed the fourth time, but he did not get into the overall standings.
Under the new rules, the Dakar, who left the crew due to technical problems, can return to the race, but only under two conditions. Firstly, such an opportunity is provided only once per race. And secondly, the crew acts out of the overall classification, in a special classification – Dakar Experience. Therefore, in the truck classification, the official was the fourth Ales Loprais on Praga, which was 6 minutes 17 seconds behind the leader (in Nikolaev – 5 minutes 19 seconds).
The fifth time at the stage was shown by Sergey Vyazovich at the bonnet MAZ. We have already talked about the fact that the main reason behind the lag of the new Minsk truck from the leader is the insufficient maximum speed. And at the seventh stage, in which straight sections with soft soil prevailed, this again manifested itself. As a result, Vyazovich lost 9 minutes to the leader, and 46 minutes in the general classification.
"There was nothing complicated on the track. A flat stage, we rode as if on asphalt, but with short approaches to small dunes. On straight lines we still cannot go at maximum speed. It turns out slower at about 5-7 km / h – while "full throttle." We can't do anything. With every 100 kilometers we lose about two minutes. Our car cannot keep the maximum speed on this type of coating, "said Sergey Vyazovich, head of the team.
In the general classification, no major rearrangements have occurred. Karginov's crew increased their superiority over Shibalov and Vyazovich to 21 and 46 minutes, respectively. Loprais is ahead of fifth Matsik by 24 minutes. Sotnikov climbed to sixth place, and the Japanese Teruhito Sugawara entered the top 10.
On Monday, Dakar 2020 participants will travel along the route of the eighth stage of Wadi al-Dawasir – Wadi al-Dawasir. Its length will be 713 km, 474 of which will be combat. The ring stage is an opportunity to go south, where athletes are waiting for mountain landscapes, canyons, dune fields and a fast 40-kilometer straight.
Cargo classification. Results of the 7th stage. Top 10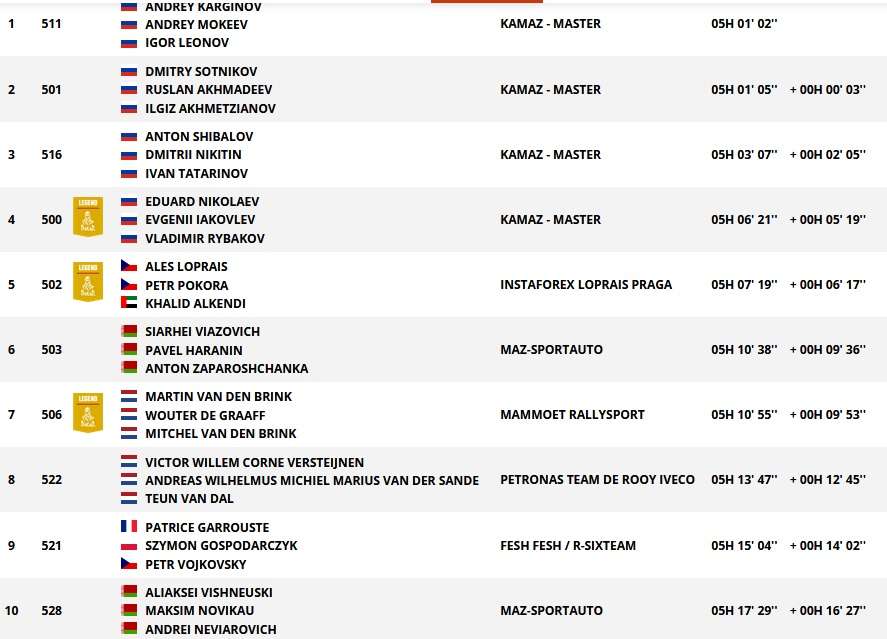 Cargo classification. General classification after the 7th stage. Top 10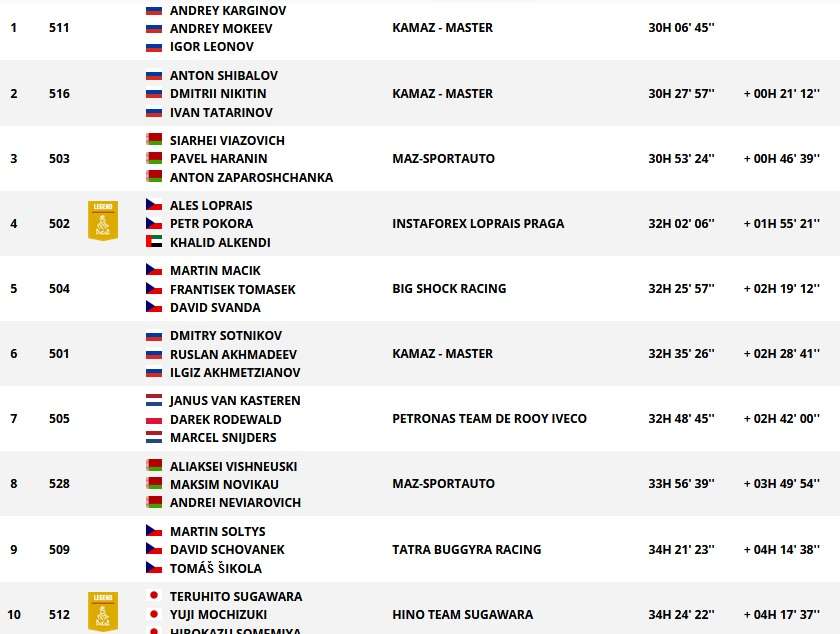 [ad_2]